Faced with a strike threat by its pilots, Air India on Tuesday paid a month's incentives and allowances to its 30,000 employees as it prepares for a crucial meeting of its board tomorrow to decide on major cost-cutting initiatives.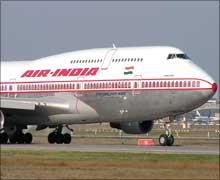 The board, which would meet in Chennai, is likely to take a decision on a proposal to scrap the productivity-linked incentives paid to its top managerial cadre, and adopt the financial accounts for 2008-09.
"The main agenda is adoption of accounts for the previous financial year," sources close to the development said. The board is also likely to discuss route and capacity rationalisation as part of the cost-cutting proposals.
However, the pilots, who have warned of a strike from November 24 if their demands are not met by November 20, seem to be in no mood to relent.
"We have received our PLI/flying allowance, but it is only for August. The payment for September and October is still pending. We had given the management November 10 deadline to meet all our demands, but it has not," Capt V K Bhalla, who had led the five-day executive pilots agitation in September, told PTI.
While the original strike notice given by the non-executive pilots is effective from today, the management was asked by agitating pilots, at a meeting with the Central Labour Commissioner here yesterday, to decide on their demands by November 20 to avoid the strike. The board meeting comes days ahead of a meeting of the Group of Ministers on the national carrier's financial health.
Besides steps to rationalise route and capacity, the board is likely to discuss a proposal on the scrapping of PLI of the company's six functional directors and over 40 executive directors.
Bhalla warned that the pilots would resort to a strike and other forms of agitation, including 'chakka jaam' (block the wheels) "if the management fails to meet our demands".
Non-executive pilots, owing allegiance to Indian Commercial Pilots Association, has demanded payment of all dues on account of PLI/flying allowance since August.
"If all the dues along with other demands are not met by November 10, the letter be considered the 14-day mandatory strike notice," the ICPA had warned earlier this month in a letter to CMD Arvind Jadhav.