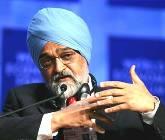 Planning Commission deputy chairman Montek Singh Ahluwalia pitched for phasing out of the stimulus package from next fiscal saying he agrees with Prime Minister Manmohan Singh.
"I agree with the prime minister. When the prime minister has spoken, you should take that as the government's view," Ahluwalia told PTI, when asked about withdrawal of stimulus given to the industry since September last year to contain the impact of the global financial meltdown.
Singh, in his address to India Inc at the India Economic Summit had said, "Like other countries, we resorted to a significant stimulus and we will take appropriate action next year to wind this down.
Clarifying about the time-line stated by the prime minister for withdrawal of stimulus, Ahluwalia said, "Next year means next financial year."
Finance minister Pranab Mukherjee, however, had said that stimulus measures need to continue till there is robust recovery in the developed world, which account for bulk of India's exports.
"Umpteen number of times I have stated that in due course we shall have to take corrective measures (phasing out of fiscal stimulus) but still I do feel that strong domestic demand is necessary. . . it will continue for some more time", Mukherjee had said.
In order to neutralise the impact of global financial meltdown, both government and the Reserve Bank came out with a host of stimulus measures aimed at generating demand by reducing taxes, increasing public expenditure and making available liquidity to the cash-starved industry.
Although industrial production recorded over 10 per cent growth in August, the exports have slipped into the negative zone for the thirteenth month in a row, declining by more than 11 per cent in October.
Declining exports will have an impact on overall demand for the manufactured goods and may make the task for withdrawing stimulus, especially for the exporting community difficult.
Commerce secretary Rahul Khullar too opined against withdrawal of stimulus for the export sector, which has been badly hit by decline in demand in major markets like the US and Euro zone.
In contrast, Reserve Bank governor D Subbarao, while unveiling the second quarterly review of the monetary policy in October, initiated withdrawal measures.
"The balance of judgment at the current juncture is that it may be appropriate to sequence the exit in a calibrated way . . . the exit process can began with the closure of some special liquidity support measures", Subbarao had said.
Image: Montek Singh Ahluwalia