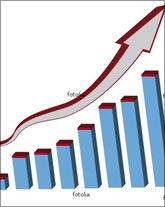 Executives in emerging markets, including India, are most optimistic about recovery in the economic conditions, and almost half of the respondents expect the growth rate to return to pre-crisis level by 2011, a survey says.
According to a study by McKinsey Global "a majority of respondents -- 51 per cent -- say economic conditions in their countries are better now than they were in September 2008".
A larger share of executives also expects the good news to continue, with 47 per cent expecting GDP growth to return to pre-September 2008 levels in 2010 or 2011, it added.
The survey further pointed out that executives in the developed countries of Asia such as Australia, Hong Kong, New Zealand, Japan, Philippines and Singapore are generally the most optimistic, and those in Europe are the least.
It added that executives in India were most optimistic, with 66 per cent believing that there would be a change in profit by the end of this year, compared with 2008.
Globally only 19 per cent of the respondents believe that an upturn has begun, but in Asia's developed countries the share of optimistic lot rises to a remarkable 33 per cent.
Some respondents said the best way to describe the global economy through the end of the first quarter of 2010 is "regenerated global momentum".
However, going forward, in the next 12 months, more than half of respondents expect their companies to continue cutting costs although the number of companies resorting to cost cutting measures would be lesser compared to those last year.
Half of all respondents expect their companies to focus on productivity growth and introduction of new products or services.
A majority of executives around the world share the prevailing skepticism about consumers and cited low consumer demand as the biggest threat to future economic demand.
Ineffective government regulation is the next biggest economic concern, followed by losing business to low-cost competitors.
The online survey was carried out from October 27-30, 2009, and garnered 1,698 responses from executives representing the full range of industries, regions, functional specialties, and titles.