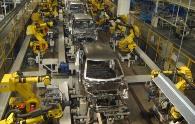 Hopes of economic recovery were reinforced by a smart growth in industrial production, which accelerated 9.1 per cent in September against six per cent a year ago.
All major sectors -- manufacturing, mining and electricity generation -- showed higher growth. Even consumer durables output rose, indicating robust demand for these products.
The positive data on industrial production helped trim early losses in stock markets, with the benchmark Sensex down by around 40 points now than 80 points in early trade.
Industrial output during the first half of this fiscal has grown 6.5 per cent against five per cent a year ago despite continued fall in demand overseas.
If the trend continues and is not powered just by temporary surge in demand during the festive season, economic recovery will be firm and could make up for decline in farm production and exports.
"Very good set of numbers, reflecting to some extent the ramp up in production to meet festive demand. We clearly see recovery underway and peg the IIP for the year to 8 per cent from 6.3 per cent," Yes Bank chief economist Shubhada Rao said.
Among the areas that were a laggard were food processing and consumer non-durables. Manufacturing output was up 9.3 per cent in September against 6.2 per cent in the same month last year and that of mining was up by 8.6 per cent compared to 5.8 per cent.
Electricity generation rose by 7.9 per cent over 4.4 per cent in the comparable period. Consumer durables, which bore the brunt of the meltdown from October 2008 onwards, grew 22.2 per cent in September even on a high base of 14.7 per cent a year ago.
Intermediate goods production also grew by 10.8 per cent against a decline of 2.5 per cent in September last year and basic goods was up 5.7 per cent against five per cent.
Capital goods also rose by 12.8 per cent on high base of 20.8 per cent. However, consumer non-durables grew by just 2.6 per cent against 4.8 per cent a year ago.
Twelve out of 17 industries showed a positive growth. However, processed food products declined by 10.2 per cent, beverages by 3.8 per cent jute textiles by 15.3 per cent paper and paper products by 2.2 per cent and metal products by 7.6 per cent.
September is crucial because, it was in this month last year that collapse of US financial services icon Lehman Brothers crippled economies worldwide. Industrial production in India contracted for the first time in 16 years in October last year, though figures were later revised up.
On a monthly basis, however, industrial growth in September is down from revised figures of 10.95 per cent in August.
"The September slow down (sequentially) was broad based. Electricity output slumped, though this is not entirely surprising following steep rise in August. Manufacturing also slowed..." Moody's Economy.com said.
However, industrial production beat market expectations of seven per cent growth in September. Crisil principal economist D K Joshi said the numbers are much more than expected and is primarily because of stimulus given by the Centre.
Department of Industrial Policy and Promotion Secretary Ajay Shankar said IIP numbers are good. "The recovery is broad based and sustainable."
The growth has set off talks of withdrawing fiscal stimulus extended by the government since last year. The government had cut excise duty by six per cent, services by two per cent, besides increasing plan expenditure as part of fiscal stimulus. The cut in taxes have hit the government exchequer hard with October indirect tax mop up declining by more than 20 per cent.
Prime Minister Manmohan Singh has already said fiscal stimulus would be phased out from next fiscal. Shubhada Rao also said," We expect the roadmap on withdrawal of fiscal stimulus to be announced in the Budget time."
She said RBI is also expected to defer policy rates hike to April, 2010. However, it can raise CRR, that bank may be asked to park more cash with the RBI, from December-January, she added.