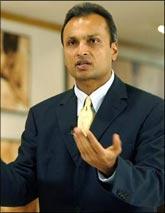 Swiss bank UBS has been fined Pounds 8 million in the United Kingdom after four of its senior employees were found misusing funds of customers, including two companies of Indian industrialist Anil Ambani-led group.
The penalty of close to Rs 50 crore (Rs 500 million) by UK's Financial Services Authority comes at a time when Indian authorities are also probing alleged violation of norms in use of funds held in the UBS accounts of Reliance Energy and Reliance Natural Resources Ltd.
The penalty, imposed after its employees were found speculating in foreign currency and commodities with money illegally taken from customers' accounts, is part of a larger probe into the past management of Indian private banking accounts at UBS, British daily Financial Times reported.
However, there was no suggestion of any wrongdoing by Anil Ambani or his group companies, the report added.
While the Indian government is probing into possible misuse of the bank accounts, the British financial market watchdog FSA was investigating into the conduct of some former employees at UBS, the newspaper reported.
According to the report, India's Enforcement Directorate was investigating whether some 'unspecified parties' violated foreign exchange transactions by misusing UBS accounts in London held by Anil Ambani group's RNRL and Reliance Energy.
"The directorate is probing allegations that funds from overdrafts on the accounts were transferred through the accounts of a group of diamond dealers based in India and Belgium to a Mauritius fund owned by UBS, from where they were invested in Indian stocks through offshore derivatives," the FT report added.
The report also quoted Anil Ambani group as saying that it had maintained the UBS London accounts "in full compliance with all applicable laws, rules and regulations."
FSA, in an order dated November 5, imposed the fine on UBS for "systems and controls failures that enabled four employees to carry out unauthorised transactions involving customer money on at least 39 accounts."
The unauthorised activity, which took place between January 2006 and December 2007 at UBS' London-based wealth management business, was brought to light by a whistleblower.
Upon further probe, it was found that UBS employees had taken part in the trading of foreign exchange and precious metals using customer money without authorisation and allocated losses to customers' accounts.
An internal UBS investigation estimated that as many as 50 unauthorised transactions a day were taking place. UBS has since paid compensation in excess of $42 million by way of redress for its customers' losses. The FSA probe found that the misuse cost clients nearly Pounds 26 million.
According to the Financial Times report, the FSA was still examining the role played by individuals involved in the case, which revolved around the India private banking desk led by Sachin Karpe, who has now left the bank.