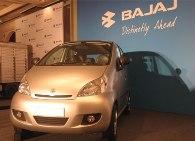 Bajaj-Renault combine may be gearing up to take on Tata Motor's Nano in the ultra-small car segment.
But in Uttarakhand, the speculation is rife that Bajaj-Renault is trying to explore the possibility of the small car establishment at various places including the industrial hub of Pantnagar. And it may not be very far away from where Tata Motors is currently producing Nano.
Rumors run high here that Bajaj may set up a new manufacturing facility to produce the small car in the hill state.
"There can be a possibility of a four-wheeler being produced from Uttarakhand but it can be Pune also," said a Bajaj Auto company official.
The other possibility may be of the expansion of Pantnagar facility of Bajaj Auto. But in such a scenario, the company can look for extra land close to its existing plant.
As the speculation grows, the Uttarakhand government, which lost the race to Gujarat as far as permanent plant of Nano was concerned, said it was ready to roll out a red carpet welcome to Bajaj-Renault in case the small car was produced from the hill state.
"We will definitely welcome the small car project in Uttarakhand," an official of the department of industries here said. However, Principal Secretary, Industries P C Sharma said the government had not received any proposal from Bajaj Auto nor he had any such knowledge.
Like Tata Motors, car dealers said Bajaj might also like to manufacture the car from Pantnagar, where it is currently producing Platina - (100cc and 125cc) and XCD - (125cc and 135cc) and Discover over an area of 66 acres. The company is having strength of nearly 350 employees there and the facility came into production in April 2007.
Although, the special industrial package offering a slew of tax incentives is coming to an end on March 31, 2010, hopes are still alive that it might be extended at least for two to three years, which may be an added attraction for Bajaj in the hill state.
Carlos Ghosn, chief executive of French car maker Renault and Japan's Nissan Motor Co had said that the new car would come to India in 2012.