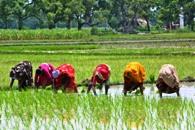 The Centre for Monitoring Indian Economy (CMIE) has revised its GDP growth forecast for the current fiscal to 6.2 per cent from six per cent announced last month.
The upward revision in the GDP projection comes on the back of a better performance of the country's economy in HI of the current fiscal (FY 10), the economic think-tank said in its latest report.
"The Indian economy's performance during the first-half of 2009-10 has turned out much better than our expectations. This warrants an upward revision in our real GDP growth for the second consecutive month. The revision this time is from six per cent to 6.2 per cent," it said.
CMIE, last month, raised the GDP growth forecast to six per cent from 5.8 per cent announced in September.
The industrial sector (including construction) is expected to grow by 7.4 per cent while services by 8.5 per cent in FY 10, the report said. Last fiscal, the growth in the two sectors was 3.9 per cent and 9.7 per cent, respectively.

The economy has emerged much stronger from the global liquidity crisis, the CMIE report said, adding the liquidity condition has improved dramatically in the current fiscal.
"RBI has begun withdrawal of refinance and special liquidity measures it had announced (earlier) to overcome the liquidity problem," the report said.
According to CMIE, some sectors such as cement, steel, automobile, coal, gas and railway freight movement have seen a rapid growth in recent months. However, a poor southwest monsoon had some impact on growth, it said.
"The only discordant note in this growth story was struck by the poor southwest monsoon this year. Had there been no drought, the economic growth in 2009-10 would have moved much closer to the pre-crisis level," CMIE said.