The power sector has been the major beneficiary of Reliance Industries Ltd's D6 gas. The assured gas supply to the sector from two tranches of allotment done by the government will be over 30 million standard cubic metres a day (mscmd), which is double of what is expected to go to the fertiliser sector.
In addition, the power sector will be getting 22 mscmd gas on a fall-back (temporary allocation in case of surplus availability) basis, with 10 mscmd out of this quota going to captive power plants.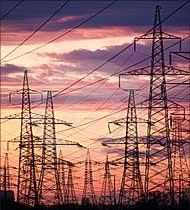 The ministry of petroleum and natural gas would be issuing instructions for fresh gas allocation from D6 this week, following which new buyers would enter into gas sales and purchase agreements with RIL, said a senior government official. The instructions will be based on the Empowered Group of Ministers decision taken last month.
The increased gas availability for the power sector has been possible due to better pipeline connectivity. In contrast, the government was able to take care of gas requirement of only those fertiliser units that have pipeline connectivity and, therefore, the EGoM in its meeting on October 27 could not make any fresh allocation to this sector, despite it being on top of the priority list. The only fertiliser and non-urea plant to get additional gas is Deepak Fertilisers, which has been given 0.178 mscmd.
According to estimates by the power ministry, the existing gas-based power plants with 15,109 Mw capacity, require 74 mscmd of gas at 90 per cent plant load factor. The average gas supply to the power sector in 2008-09, which was also the pre-D6 shortfall in gas availability, was 37.45 mscmd.
With the additional gas available to the sector on a firm basis now being 30 mscmd, this shortfall has been met substantially, though coming up of more gas-based power generation capacity will increase the demand-supply gap again.
The gas availability was especially helpful in peak summers when poor monsoon hit hydropower generation. "The gas availability to power sector has helped in full operation of stranded assets. With prospects of better gas supply, some new developers are setting up additional capacity," said Kuljit Singh from Ernst & Young.
RIL is ramping up its D6 production to 60 mscmd from around 40 mscmd at present. It plans to increase production further to 80 mscmd. Gas allotment made till the total production level of 60 mscmd will be on a firm basis and the allotments made for quantities beyond 60 mscmd will be on a fallback basis.
Pipeline connectivity is crucial not only for gas offtake but also for efficient allocation of gas. With respect to the fertiliser sector, officials pointed out priority consumers should be able to consume gas as and when it is available. "The marketing priority does not allow for reservation of gas for consumers who cannot lift it for any reason," said an official.
The government has granted pipeline authorisation to GAIL India and Reliance Gas Transportation Infrastructure Ltd. These networks will connect the remaining fertiliser units but that is likely to happen only in 2011-12.