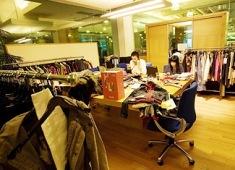 The world's big retailers are coming back to India to source goods, but it will be a while before Indian suppliers get back the pricing power they once enjoyed.
With consumer spending in the US and Europe recovering, many retailers, who typically place orders four months in advance, have started revisiting their suppliers in India.
Manish Bharati, vice-president at buying agent Li & Fung, says he is seeing some buyer traffic. "If it had slipped 8-10 per cent six months back, it is coming back to normalcy," he adds.
Li & Fung is amongst the largest buying agencies in the world, a Hong Kong-based company with $14 billion in turnover, which sourced goods worth $700 million from India last year. Bharati sources merchandise from India for European retailers.
"Retailers would definitely increase sourcing from India. During recession, they had scaled back operations, shut stores and reduced sourcing. Once consumer spending increases, it would have a direct impact," says Bharati.
The US economy grew 3.5 per cent last quarter. Led by Germany, Europe is also showing signs of a recovery.
A Wal-Mart spokesperson says the retail giant is looking forward to new sourcing opportunities in India, which continues to be an important market for Wal-Mart Global Procurement.
Rajendra Hinduja, the CEO for apparel exporter Gokaldas Exports, has also been busy answering calls from customers for new orders. "There are more enquiries. We see some movements on orders for deliveries in the January-March quarter," he says.
But the problem is while volumes have picked up, most customers are still wanting to pay the prices they paid during recession. ''We are getting new orders, but prices are too low.
A volatile rupee has made our life difficult,'' says Hinduja.
Retailers like Gap International, Wal-Mart, Target, JC Penney, Tesco and Nike source over $2 billion (a conservative estimate) of merchandise from India, with some like Gap sourcing merchandise worth Rs 3,500-4,000 crore (Rs 35-40 billion) a year from India.
French retail giant Carrefour has seen sales picking up in France, its biggest market but sales in Spain, its second-biggest market, remain low. Mathieu Brousse, country head, Carrefour Global Sourcing Asia, doesn't expect to source more from India.
"Our volumes of export from India will not grow much in the coming months, since the focus of the customers will be on reasonable low-price items, which are usually more competitive from other origins such as China and Bangladesh," said Brousse.
Moreover, in a downturn, consumers down-trade. "Cheaper goods are finding higher demand as compared to mid-priced and high-priced brands," says Hinduja.
As a result, sales of mid and high-priced brands have slowed dramatically in the last 18 months.
Euro Fruits, one of India's largest exporters of grapes to retailers for 18 years, has a similar experience. The downturn saw volumes spurt 35 per cent, but realisation has come down 10-12 per cent.
Nitin Agarwal, MD, Euro Fruits, says consumers are eating out less and hence picking up stuff from supermarkets more.
"Sales of exotic fruits are down, but people are buying more of bananas, apples and grapes," says Agarwal, who expects retailers to source more this year but feels prices may remain under pressure.
There's an additional threat: a lot of retailers like Tesco and ASDA are trying to source directly from farmers, says Vikram Puri, MD, Mahindra Agro.
RETAILERS WHO SOURCE BIG-TIME FROM INDIA
Gap International
4,000
Wal-Mart
2,500
JC Penney
1,000
Target
1,000
Tommy Hilfiger
800
Nike
700
Source: Suppliers' estimates (in Rs cr)