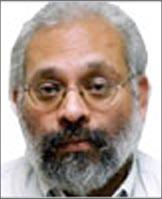 Global rating agency Standard and Poor's Asia Pacific chief economist Subir Gokarn has been appointed as RBI deputy governor in place of Rakesh Mohan who quit months ahead of his retirement.
"I have received the notification from the government for becoming RBI Deputy Governor," Subir Gokarn told PTI. The post of deputy governor in Reserve Bank has been lying vacant since mid-June after Rakesh Mohan quit ahead of his retirement.
The apex bank traditionally has four deputy governors. Currently, the other three deputy governors are Usha Thorat, KC Chakrabarty and Shyamala Gopinath.
Before joining S&P in August 2007, Gokarn was chief economist with S&P's Indian arm Crisil. He has also worked as an economist with the think-tank National Council of Applied Economic Research.