Shanmukh Raj, a 29-year-old developer who works for a Bangalore-based application development company called Robosoft, headed a four-member team which recently developed a popular online game called Chess Lite.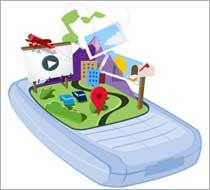 "It took my team four months to develop this game for the iPhone. And today we have over 1,500 users who have registered for this game which is hosted on the App store (from Apple)," says an elated Raj, adding: "Chess Lite also figured in the Top 100 chart of Apple's UK App store for a brief period."
Raj is just one of the 1,000-odd Indian developers who work daily on creating applications which include simple and complex games, social networking apps, utility apps and even apps for enterprise solution providers. They are either employed with the estimated 50 Indian companies that undertake the development work, or freelance if they have good programming skills. Companies include Robosoft Technologies, Rapidsoft, Spiel Studio, Interchain solutions and Nexmoo.
"With the mobile phone emerging as an epicentre both for productivity as well as lifestyle activities, consumers will demand applications that can help them satisfy their needs which have not been met," says Alok Shende, principal analyst, Ascentius Consulting, adding: "Because the market opportunity is global and entry barriers very low, all it takes is a radical idea and developer skill sets to succeed."
Indeed! The market potential is huge. with over four billion global mobile users as compared to approximately one billion PCs. The global mobile application market including games is worth $4.66 billion in 2009 and expected to touch $16.60 billion by 2013. Games, maps/navigation, music and video, news and weather, finance and banking, e-books, social networking and sports are the key drivers for this growth.
Businesses in the US are projected to shell out about $9 billion on mobile applications like customer relationship management, ERP, email, and SMS/text messaging by 2011, according to research by Compass Intelligence.
The developer community has another major market with prominent players like Apple, Google (Android), Nokia and now even Research in Motion (Blackberry) having set up applications stores in India too. They host these applications on a revenue-sharing basis.
It was the Apple which made the concept famous. Later, Nokia entered with its OVI brand. And even Microsoft launched its mobile app store recently. The company boasts approving more than 800 applications for Windows Marketplace for mobile as of mid-November. But the figure pales in comparison to Apple's announcement of its 100,000 app milestone just two weeks before.
Madhusudan Gupta, Senior Research Analyst with research firm Gartner reasons that "the voice market is getting commoditised, and the only growth will come from non-voice segments. This is what will create a differentiating factor. For a handset vendor, for instance, creating an application store helps them sell their handsets. Everyone is now moving from a walled garden to an open ecosystem, and this helps in expanding the developer community base too. All major vendors have applications stores, and I won't be surprised if Indian operators too create such stores soon."
A simple application is priced at around $10,000-15,000 while the price for complex applications can go up to $50,000. Apple, for instance, retains around 30 per cent of the cost when it hosts these applications on its stores. The remaining goes to the company that has developed the application.
Robosoft, according to Rohith Bhatt, CEO & MD, is working on more than 50 applications, primarily for the iPhone. The company has over 10 applications for Android, too, which "should be complete in the next 30 to 45 days". "We figured in the Top 100 charts of the UK iphone application stores," notes Bhatt. The company is also in talks with Nokia, Blackberry and Android to development applications for their stores. It has around 350 employees.
A small but simple application can taken anywhere between 1-2 months to complete while complex applications (good games, for instance) can take up to 4 months, says Bhatt.
Rapidsoft, according to Palak Biswas, Business Development Manager, Rapidsoft, has over 50 applications like games, and even complex ones like applications for enterprise resource planning solution providers, besides utility applications and those for social networking. The company has a team of over 50 engineers.
Indian application development companies, however, have not created many applications that are India-specific. Robosoft, for instance, has only 2 applications - Vishnu Prarthan and Durga Prarthana - while Rapidsoft (another such company) too has only a few applications. Bhatt of Robosoft says the "price points are not very attractive in the Indian market".
"Our connectivity on mobiles does not give a great surfing experience," says Biswas, adding: "Hence, developing mobile applications for the internet market does not make too much sense currently. Once the 3G rollouts happen (after the auctions), we will take a call."