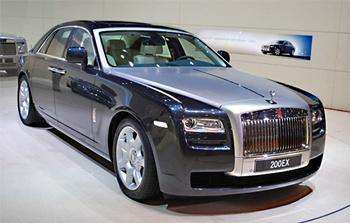 After 'Phantom', Rolls Royce is ready to drive its most technologically advanced car 'Ghost' into India and hoped that at least 45 people with crores in disposable income would be charmed by the vehicle's simplistic design.
The company on Friday previewed Ghost, the super luxury sedan with a whisper-quiet engine and a price tag of Rs 2.5 crore, in the country and expects the first delivery to happen in quarter one of next year. The 6.6 L twin-turbo car is charged with a V12 engine.
"We expect to sell 75 units in 2010 in India, of which 'Ghost' will comprise 50-60 units," Roll Royce Regional Director Asia Pacific Colin Kelly told reporters.
Last year, the company had sold about 15 units in the country, comprising cars from the 'Phantom' family.
He said the company might witness a slowdown in its global sales this year because of the global recession. The company had globally sold 1,212 units of its cars last year.
This year, the company is looking to more than double its global sales. "We are looking for sales of 2,500 units globally in 2010, of which two-third is expected to come from the yet to be launched 'Ghost'," Rolls Royce General Manager (South and East Asia Pacific) Brenda Pek said.
She added that in India the company expects to sell 14-16 units this year and increase it to 75 units next year. "Everybody is keeping an eye on India. India is a key market for us. Last year, we added our second dealership in Delhi and if demand increased we will expand more," Brenda said.
Rolls Royce has already received 25 bookings for the 'Ghost.'
To keep pace with the launch of 'Ghost', the BMW group company is also increasing its global headcount by adding 200 more to its staff this year.
"Globally, we have an employee strength of 700 and we are increasing this to 900 by end of this year, mainly to cater to the anticipated demand of the Ghost," Brenda said.
The UK-based company's global manufacturing facility is at Goodwood in Britain, where cars are hand-built by engineers.