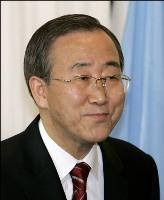 Noting that one hundred million people could fall into poverty by the end of this year, UN chief Ban Ki-moon asked parliamentarians across the globe not to allow the global economic crisis to be an excuse for cutting aid to the world's poorest people.
"We all know that the impact of the economic and financial crisis is most severe on the most vulnerable. They are among those who are most affected yet least responsible," Ban told lawmakers who are participating in an event organised by Inter-Parliamentary Union at the UN.
"In past economic crises, development assistance has been cut at the very time it is most needed. The global recession cannot be an excuse to abandon pledges," he added.
Stressing the global economic crisis was being aggravated by the food crisis, pandemic flu, and climate change, the secretary-general called on governments to enhance their aid to developing countries.
"There is an urgent need to increase the volume, quality and reliability of aid flows. This is central to a coordinated global recovery plan."
The theme for this year parliamentary hearing is to chart out methods of dealing with the global economic crisis.
Ban highlighted key elements in the UNs response efforts in alleviating the adverse impacts of the crisis.
"The UN system is providing additional assistance to those who have been hardest-hit by the economic crisis. We are bringing together funding and operational capacities to develop a concrete approach tailored to each country's needs."
The UN package to deal with the economic crisis includes clean and green economic development to recover from the crisis while preserving the environment, achieving food security through investments in agriculture for the hungry to feed themselves.
"Copenhagen can be a catalyst for powering green growth," he said. Let us continue to work together to invest in green," Ban said.
The UN is also working to counter protectionism and reach a successful conclusion of the Doha Round, and the Global Jobs Pact aims to focus the attention of decision-makers on employment and decent work as the foundation for long-term recovery.
In June, the ILO adopted the Global Jobs Pact, which is designed to guide national and international policies aimed at stimulating economic recovery, generating jobs and providing protection to working people and their families.
"In order to meet these challenges, your continued engagement is critical," the secretary-general told the parliamentarians.
"It is even more imperative as we approach next year's United Nations summit on the Millennium Development Goals. The head of the UN also called for reform of global rules and institutions created generations ago to make them more inclusive.
Image: Ban Ki-moon