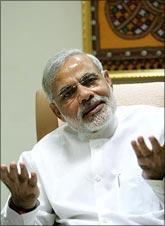 Gujarat Chief Minister Narendra Modi wooed Indian auto giant Maruti Suzuki to set up a car project in Gujarat and said that the state government would provide all the facilities to it.
Inaugurating Asia's first Rs 20-crore (Rs 200-million) Driving and Technical Training Institute, managed by the Maruti Suzuki at Gajadara village (about 20 kms from Vadodara), Modi said that it would be in the interest of the company as it would be cheaper and economically viable to export cars from the Mundra port in Gujarat to Europe and elsewhere.
Modi said that currently Maruti Suzuki's car plant is located in Haryana and cars manufactured there  are brought to Mundra port for export. Setting up a car project in Gujarat will help Maruti Suzuki save transportation costs, Modi said. The prevailing friendly investment environment would also the car maker, he said.
With the Tatas setting up the Nano car project in Sanand and another company setting up heavy truck project in Kutch in the state, it is Maruti's turn too to set up a manufacturing unit here, Modi added.
The Gujarat chief minister also said that the Japanese government was a partner of the Gujarat government in hosting the Vibrant Gujarat Summit held at Ahmedabad in January this year. He said that delegations from various companies and government bodies from Japan visit Gujarat every week to discuss their intentions of setting up units and strengthening the relationship between Gujarat and Japan, Modi said.
Spread on an area of 25.5 acres of land, the Driving and Technical Training Institute will initially admit 2,250 trainees in a year. While the land and building infrastructure have been provided by Gujarat's development support agency, Maruti Suzuki has taken the complete responsibility to manage and run the institute.
The institute will be equipped with driving simulators, driving tracks and classrooms. Maruti Suzuki will offer its management expertise, technology, training equipment and world class course curriculum.
Shinzo Nakanishi, managing director and CEO of Maruti Suzuki India, said, "We are determined to make this institute a model learning centre for safe driving and skill development. This institute will also play an important part in our National Road Safety Mission launched last year for promoting road safety and safe driving."
Under this mission, the institute aims to train 500,000 people in three years, he added.
At present, Maruti Suzuki manages two institutes of driving, Training and Research (ITDR) in Delhi. The company also runs 61 Maruti Driving Schools across the country.
Nakanishi said the company expects to export 100,000 cars to European countries this year.
'Make Gujarat defence equipment destination'
Earlier, laying the foundation stone for Rs 2,700-crore (Rs 27 billion) Jindal Rail Infrastructure's Ltd's (JRIL) Rail Wagon Manufacturing factory at Karjan town near Vadodara, Modi appealed to the corporate giant to make the state as their defence equipment destination.
"Gujarat does not have any defence equipment unit and wants such units in the state. We are eager to meet the country's defence requirements instead of importing them from foreign countries," Modi said.
"Gujarat government encourages setting up of engineering manufacturing units in the state for helping the country emerging stronger and in meeting the challenges posed by the neighbouring country China which has large number of engineering units," he said.
With the setting up of units of Larsen and Toubro, Areva, Brombidier, Areva, ABB, Wagon manufacturing unit and other multinational companies in 50 km radius of Vadodara, it is emerging as 'speed capital' of the state and western India, Modi added. In a bid to meet skilled requirements of the engineering units in the state, the number of seats in the engineering colleges across the state has been increased to 86,000 seats from 13,000 seats five years ago, Modi said.