India does not endorse efforts to dilute expectations from the Copenhagen climate summit and is pushing for a "legally binding substantive" outcome, a matter that will be discussed during Prime Minister Manmohan Singh's talks with US President Barack Obama.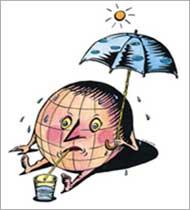 Coinciding with the Copenhagen meet, India is considering a legislation incorporating all its action plans and national missions aimed at reducing dependence on coal based fuels and "improving" the environment by 20 per cent by 2020.
During their meeting on Tuesday, Singh and Obama will discuss what kind of outcome is expected from Copenhagen meet beginning on December 7, sources said.
India and a number of developing countries want "legally binding substantive outcome" from the meet and do not endorse the recent statement by the US and other APEC nations that a mere political declaration would do.
The sources said that India does not want the world to give up with regard to Copenhagen meet, as is being done by some countries.
India feels that there is still time for Copenhagen conference, particularly its high-level segment beginning on December 16, and efforts should be made to push the negotiations for an outcome mandated by United Nations Framework Convention on Climate Change and Bali action plan.
There should be no attempt to pre-empt the Copenhagen meet as 192 countries are involved in it and the consensus would be required even if it is not possible to achieve a legally binding declaration at Copenhagen, some consensus should be arrived at the end, the sources said.
The effort should be to see "how far we can go", they said.
"We should try to get the maximum from Copenhagen and the template should continue to be UNFCCC and Bali action Plan," a source said.
On its part, India does not wish to see any outcome that will diminish the prospect of its development.
If the Copenhagen meet fails to arrive at legally binding outcome it should pave the way for such results in the next six months or so.
UNFCCC provides for countries furnishing their domestic commitments about what they have done in the past and what they intend to do in the future.
India is willing to adhere to this even if the national commitments have to be submitted periodically.
The sources pointed out India already has a domestic action plan which is voluntary and aimed at specific target. These include solar mission and green India vision which are aimed at "improving" environment by 20 per cent by 2020.
The government plans to encapsulate the various climate action plan in the form of a legislation, the sources said.
They said India and the US bilaterally have conversion of views on climate issue even though they may differ at multilateral negotiations.
Both countries agree that there is an inter-link between climate change and energy security and the necessity of use of technology to fight this problem.
The sources emphasised that there was critical consensus in India over how to approach Copenhagen meet notwithstanding a recent statement by Environment Minister Jairam Ramesh which created confusion before he issued a clarification.