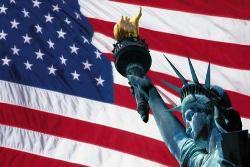 The reconstituted Indo-US CEO Forum is scheduled to hold its first meeting on Monday, setting out the agenda for the next phase of relationship in business, industry and economy between the two countries.
Among the areas of cooperation would be education, science and technology. The meeting would be co-chaired by Tata Sons chairman, Ratan Tata and David Cote, chairman of fortune 500 Honeywell.
Tata heads the 12-member Indian delegation to the CEO Forum while Cote leads the US side.
The Forum members would also be meeting its members to get a private sector perspective on how to expand economic cooperation.
"Our hope is that the Forum will inform the choices of government leaders, as it has in the past, and thereby enhance our joint competitiveness and ingenuity," under secretary of state for political affairs Bill Burns said last week.
Another area of partnership would be in developing clean technology. Speaking at a the Carnegie Endowment for Peace last week, Burns had said, "We need to harness their creativity to find new solutions for sustained economic growth, which will greatly depend on the move away from old fossil-fuel development to more low carbon, energy efficient alternatives."
Burns said the CEO Forum can complement the work of both the governments in industries and disciplines where private sector interests play a prime role-in education, science and technology, and on the full range of global economic policy issues facing India and the US.
The American delegation also includes Citi Groups CEO Vikram Pandit and Indra Nooyi of Pepsico, who were nominated to the Forum by the White House.
The official list has not been released yet. Other US CEOs to the list, include Louis Chenevert from United Technologies, Mike Splinter of Applied Materials; Andrew Liveris of Dow Chemicals; Jamie Dimon of the J P Morgan Chase; Terry McGraw III of the McGrow Hill; Charles O Holliday Jr of Dupont; and Paul Jacobs of Qualcumm.
The Indian CEO forum includes six new faces -- Sunil Bharati Mittal, chairman and CEO of Bharti Enterprise; SBI chairman, O P Bhatt; Venu Srinivisan of the TVS Motors; S Gopalarishnan of Infosys; Chanda Kochhar MD & CEO of ICICI Bank and Preetha Reddy MD of Apollo Hospitals. Reliance's Mukesh Ambani; Biocon chairman & MD Kiran Mazumdar Shaw; Analjit Singh of Max India; Deepak Parikh from HDFC and Ashok Ganguly, chairman of the Firtssource Solutions Limited and ABP Private Limited are among other members.