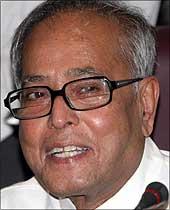 For the past one-and-a-half months, railway minister Mamata Banerjee has stopped her informal interactions with finance minister Pranab Mukherjee after a sharp exchange on telephone over a municipal election issue.
But Banerjee had to budge as she found it difficult to deal with other ministers without the help of Mukherjee.
Banerjee wanted a meeting with law minister Veerappa Moily but the latter started avoiding her.
She had no other choice but to request Mukherjee to arrange the meeting. Mukherjee, the number two minister in United Progressive Alliance, obliged, and the meeting was scheduled in his room in Parliament House on Friday.
Image: Pranab Mukherjee