Driven by mobile PC shipments, global computer market is expected to grow 2.8 per cent in 2009, a research firm said on Monday.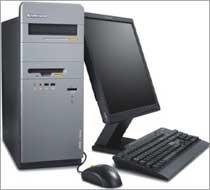 According to Gartner's preliminary fourth-quarter forecast, worldwide PC shipments are expected to total 298.9 million units in 2009, a rise of 2.8 per cent over that in last year. In 2010, PC shipments are projected to reach 336.6 million units.
The forecast for shipments is more optimistic than Gartner's final September forecast, which anticipated a two per cent decline for 2009.
"Shipments in the third quarter of 2009 were much stronger than we expected, and that alone virtually guaranteed we would see positive growth this year," Gartner Research director George Shiffler said.
Gartner's new forecast indicates mobile PC shipments are on pace to reach 162 million units in 2009, a 15.4 per cent increase over 2008.
In 2010, mobile PC shipments are expected to reach 196.4 million units. Mini-notebook shipments, included in overall mobile PC shipments, are forecast to reach 29 million in 2009 and will grow to 41 million shipments in 2010.
However, the market value of PC shipments is projected to decline. "The market value of global PC shipments is now forecast to total $217 billion in 2009, a 10.7 per cent decline from 2008," Gartner said.
Gartner projects the market value of PC shipments to reach $222.9 billion in 2010.
"Given the market's competitive dynamic, we don't see PC average selling prices rising any time soon. As a result, growth in the market value of shipments will significantly lag shipment growth next year and beyond," Shiffler said.
Gartner analysts reiterated their belief that Windows 7 will have a limited impact on holiday PC sales but noted that 2010 PC shipments could be affected.
"We are expecting a modest bump in fourth-quarter consumer demand as vendors promote new Windows 7-based PCs, but the attraction will be the new PCs, not Windows 7," Shiffler said.
Shipments of desk-based PCs are expected to total 136.9 million units in 2009, a nine per cent decline from 2008. In 2010, desk-based PC shipments are forecast to reach 140.2 million units.
© Copyright 2021 PTI. All rights reserved. Republication or redistribution of PTI content, including by framing or similar means, is expressly prohibited without the prior written consent.