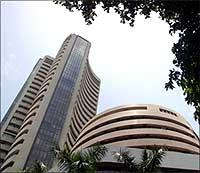 Leading bourse Bombay Stock Exchange will soon roll out websites in many regional languages including Marathi, Tamil and Punjabi, a senior official said on Tuesday. "BSE will soon roll out language websites. . .
"At present we have websites in Hindi, English and Gujarati. . . We will create more in Marathi, Tamil, Telegu and Punjabi," the official said without wanting to be named. Maharashtra Navnirman Sena last week submitted a memorandum to the exchange deputy chief executive officer Ashish Chauhan asking him for inclusion of Marathi in the BSE website.
Meanwhile, market regulator Securities and Exchange Board of India said in a statement the reports suggesting that MNS has asked it to provide Marathi as an option on its website were erroneous.
"Sebi does not have any officer with designation deputy chief executive officer or by the name of Ashish Kumar Chauhan.
"Sebi has neither relaunched its website recently nor does it have a Gujarati website."
Image: The Bombay Stock Exchange