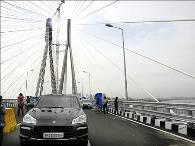 The Maharashtra State Road Development Corporation (MSRDC), on Tuesday said that there were no cracks or leakages on the recently inaugurated Bandra-Worli sea link bridge.
MSRDC, alongwith Hindustan Construction Company (HCC) and Dubai-based DAR Consultants, denied the presence of any cracks or leakages, through a joint press statement.

A section of media had reported that the sea link, which was opened to the public in June, has developed leaks and that there were cracks on the road surface.
MSRDC also assured that the bridge was structurally safe and sound and at par with any other international bridge of this scale.
It also said that as per standard international practice, the bridge was being inspected on a regular basis and minor rectifications carried out to ensure continued durability of the structure.
"The rectifications are common in all bridges of this scale and is carried out by the contractors during the Defect Liability Period," the statement said.
DAR is the project designer and consultant for the 5.6-kilometre Bandra-Worli sea link and HCC was the contractor for the same. MSRDC had funded the construction of the sealink, which is first-of-its-kind in the country.