Troubled insurer American International Group has said it will pay an annual package of $7 million (around Rs 32 crore) in cash and stock combined to chief executive officer Robert Benmosche.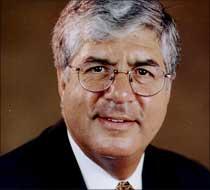 Benmosche would receive an annual salary of $3 million in cash and $4 million in AIG common stock as per the previous agreement on August 17, AIG said in a statement.
As part of the compensation agreement, Benmosche would be restricted from selling the shares for five years from his start date of August 10, 2009, the statement added.
The US government currently holds 80 per cent in AIG. A $180 billion bailout package was given to the insurer last year. As part of the rescue package, the US government would also keep a tab on the remunerations received by the executives of the struggling firms.
Benmosche, former chief of MetLife, had taken the charge of beleaguered insurer in August, replacing Edward M Liddy.
Reportedly, Benmosche was considering leaving the post of AIG CEO due to the pay curbs imposed by the government on the the company's executives.
Obama administration's pay czar Kenneth Feinberg in October had slashed 2009 pay packages for 13 top AIG employees, which reportedly had left Benmosche "frustrated."
According to the The Wall Street Journal, Benmosche has now signed a "non-compete agreement", a sign that he is committed to his role in AIG until the job is done.