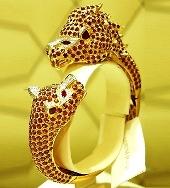 The wedding season is considered the best time for gold jewellers but with the yellow metal soaring to a record nearly Rs 18,000 per 10 gram, New Delhi jewellers have reported a 25 per cent drop in demand.
Even those reaching out to jewellery showrooms at the peak of the marriage season are putting a cap on their purchases, jewellers rued.
They said soaring prices have adversely affected their business as demand for ornaments has witnessed a fall by at least 25 per cent this season.
During the course of the year, the marriage season tends to be at its peak from mid-November to February, barring a few weeks in December with over 25,000 marriages scheduled during the period in Delhi only.
On the recent hike in gold prices, an official at state-run trading firm MMTC told PTI, "While jewellery buying is low, there is a positive influence in buying of gold coins and bars. People are investing more in solid gold expecting the market will rise further and they would be able to get good returns for their investments."
Market watchers believe that high prices are due to an unprecedented rush of investors into the bullion market, as also high global prices.
The city's leading gold retailers in Chandni Chowk and Karol Bagh said they are flooded with requests for cheaper necklaces, rings, earrings and bangles.
"Till last year, people used to give 10 or 15 tolas (100 or 150 gm) of jewellery to the prospective brides, but now they are buying only after deciding the amount of money they will spend on ornaments," said Nitin Malik, owner of Malik Jewellers Pvt Ltd, an MMTC franchise in New Delhi.
Atul Jain, a jeweller from Chandni Chowk said, "Sale has gone down by almost 25 per cent. People are buying only for brides and grooms," adding a gold ring now costs around Rs 9,000 as against Rs 5,000 last year.
The ongoing volatility is also keeping the prospective buyers at bay as they are unable to decide whether its the right time to invest in jewellery or not.
Families are cutting costs and buying new sets only for the bride. The others are just getting old jewellery polished, Jain said.
According to a shop manager at a Tanishq outlet, the trend of using gold in smaller quantities picked up after 2004, when the price of the precious metal began rising. "We are now trying to satisfy customers by showing big pieces with less gold and a low price tag," he said.
Karan Kriplani, owner of Girdhari Lal Co in Connaught Place in New Delhi said, "A mild sentiment exists among customers. They are hesitant in buying over the counter."
A K Chhabra, sales manager with Phulkari in Connaught Place, said people might be buying less jewellery but they are investing in solid gold -- bars and coins.
"These items have a long term investment value as there is least possibility of value depreciation on re-selling," Chhabra said.
Sonal, a professor, said, "My elder daughter is getting married in January but I am not getting any new jewellery for myself. Our budget doesn't allow it."
Noting that consumers are hesitant in buying heavy jewellery, a senior staff member with Mehrasons, a leading gold shop in the city said, "Clients ask us to make a specific design with less gold that would fit into their budget.
"The investor sentiment is pretty bad right now, it seems there is no end to the negative factor. Gold is touching Rs 18,000 mark and it appears to be almost out of reach of the common man."
Preeti Nigam, an MNC employee who is tying the knot next month, said, "I have placed an order for a gold set and a necklace after selecting the design from the readymade pieces.
"The jeweller will design both the pieces -- with less gold content -- for the same cost for which I would have get only one if I had bought the readymade pieces."
However, Praveen Jain, who has a jewellery showroom in Bhogal market, begs to differ saying the volatile gold prices have not affected jewellery sales.
"Those who want to buy are purchasing gold -- both jewellery as well as solid gold. There is a demand for ornaments," Praveen said.