Kids will no more cringe when getting an injection as syringes will soon come in a friendly form with a butterfly or an aeroplane attached to them to divert the children's attention from the injection.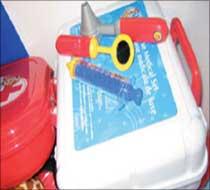 Acceptors, the name given to the first-of-its-kind syringes, is being developed by two young Indian entrepreneurs at their recently-launched design firm 'No Formulae' and will hit the markets worldwide in the next 6-8 months.
"Acceptors will hit the global markets in the next 6-8 months and we are in talks with a leading surgical equipment manufacturer in India and Sweden-based Dandreyds Sjukhus to make the products," No Formulae's co-founder and CEO, Samarth Mungali, told PTI in Mumbai.
The company will involve itself in designing and refining of the product, he said.
The 26-year-old graduate from the Delhi College of Engineering decided to start a venture of his own while pursuing strategic design management at the National Institute of Design in Ahmedabad. He founded No Formulae along with his fellow-mate Bhavna Bahri (25).
"I always thought of doing something different and soon came up with the idea of making syringes more child-friendly, one that would divert the kids' attention and help them overcome the fear of taking injections," Mungali said, adding "we have designed brightly coloured toy-like attachments with the syringes."
The attachments, which, will come in different shapes like a butterfly, aeroplane and juice-bottle, will conceal the syringes, Mungali said.
The attachments will come at a very reasonable price of less than Rs 10.
The company has so far invested a mere Rs 10-12 lakh (Rs 1-1.2 million) in research, innovation and designing of the prototypes.
"The amount invested is only Rs 12-lakh, which we got as prize money from an innovation challenge hunt. We have conducted market surveys in five cities to see how parents and doctors reacted to the product...we got a very good response," Mungali said, adding that Danderyds Sjukhus has certified it as a feasible concept.
The Centre has also sanctioned a grant of Rs 11-lakh (Rs 1.1 million) to No Formulae in August for further R&D activities in this regard.
Asked on the strategy to market this innovative product, Mungali said the company has the first-mover advantage and would leverage that.
"We have already filed for the patent with the concerned department of the Indian government and expect an approval in the next four-months," he said.