Shares of Satyam Computer Services (now Mahindra Satyam) on Wednesday plunged nearly 11 per cent on the Bombay Stock Exchange, a day after the CBI said the loss suffered by investors in the fraud may stretch to a staggering Rs 14,000 crore (Rs 140 billion), instead of the initial estimate of Rs 7,800 crore (Rs 78 billion).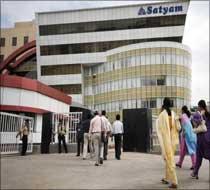 The scrip ended today's trade at Rs 90.55, down by 10.92 per cent from its previous close on the BSE. During day hours, shares shuttled between Rs 102 and Rs 88.15.
On Tuesday, the Central Bureau of Investigation filed the second chargesheet in the multi-crore Satyam scam against its founder chairman B Ramalinga Raju and others, including the recently arrested internal auditor VS Prabhakar Gupta.
Marketmen said investors dumped the stock amid concerns of further downside after the CBI chargesheet as the amount of fraud estimated by the CBI is almost double the initial estimate of Rs 7,800 crore.
The stock witnessed a similar movement on the National Stock Exchange too, where it settled the day at Rs 91.15, down 10.29 per cent from its previous close.
On the volume front, over 11.75 crore (117 million) shares changed hands on the two bourses today.
According to the CBI chargesheet, accused persons created fake customers and generated fake invoices to inflate the company's revenues to the tune of Rs 430 crore (Rs 4.3 billion).
In January this year, Raju admitted of cooking up the financial books of Satyam to the extent of Rs 7,800 crore.