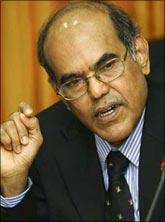 Reserve Bank of India Governor D Subbarao on Wednesday contested the idea of "making banking boring" to bring back economic stability, mooted by Nobel laureate Paul Krugman in the wake of global financial meltdown.
Rather, banking has to evolve, grow and innovate in response to new developments in financial markets, Subbarao said at a conference on Banking--Crisis and Beyond.
"Banks have been at the heart of the global financial crisis and bankers are widely seen as being responsible for the crisis. One of the more influential ideas, on that has generated a vigorous debate, has been the thesis put forward by the noted economist and Nobel Laureate Paul Krugman that the way to reform banking is to once again make it boring," he said.
Krugman argues that there is a negative correlation between the business model of banking and economic stability. Whenever banking got exciting and interesting, paid well and attracted intellectual talent, it got way out of hand and jeopardised the stability of the real sector, according to Krugman.
Conversely, the Nobel laureate said, periods when banking was dull and boring were also periods of economic progress.
Contesting the thesis, Subbarao said, "I will argue that it is neither possible nor desirable to make banking boring. From the 24/7/365 perspective of today, that (boring banking) may appear romantic, but is hardly practical."
Subbarao said the boring banking concept does not appear persuasive by more recent evidence and on several counts.
"First, recall that during the crisis, we saw the failure of not only complex and risky financial institutions like Lehman Brothers but also traditional banks like Northern Rock," he said, buttressing his arguments.
He said there have of course been problems in the way banking evolved around the world that led to the crisis, but the answer is not to adopt "Luddite" solutions that take us back for decades.
"The solution is to look ahead to what we need. We need to build institutions that go beyond narrow banking and provide the whole gamut of financial services to meet the needs of customers, markets and economies," he said.
The need is to build a safe and enterprising banking sector that supports growth while preserving financial stability, he said.
The RBI Governor said even his predecessor Y V Reddy in a recent lecture called for "back to basics" in banking and urged that banks must curb the tendency towards further financialisation of deposits that they mobilise and must focus on lending to  real sectors, particularly farm and small and medium enterprises that have limited ability to tap the capital markets.
Although, the former RBI Governor, Subbarao said, did not mention "boring banking", in a sense he was calling for what can stylistically be interpreted as boring banking.