In an internal meeting this evening, Tata Group chairman Ratan Tata will address staff of the Taj Mahal Palace & Tower Hotel and say a short prayer in memory of the guests and employees slain in the terror strike on November 26 last year.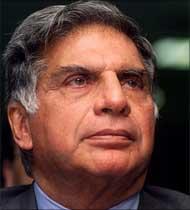 "The Taj Mahal Palace and Tower, Mumbai, will hold a solemn and private memorial meeting within the hotel to mark the events that took place on 26th November last year," the Taj said in a statement.
"We do not propose to have a public event, which, we are sure, is fully understood by so many people in Maharashtra, all over India and the world. Their support has been overwhelming," the hotel added.
Top executives of the Indian Hotels Co Ltd, which owns the Taj, including general manager Karambir Kang, managing director Raymond Bickson, vice chairman R K Krishna Kumar are expected to be present among others.
"Employees (about a thousand) will observe silence for a few minutes and say a short prayer. Mr Tata is also expected to say a few words," a source said.
The Taj had been holding private multi-faith prayer meetings according to Hindu, Islam, Buddhist, Sikh, Christian, Parsi norms between November 14 and 24.
Indian Hotels Co plans to reopen the 106-year old Taj's heritage or Palace wing in phases till April 2010.