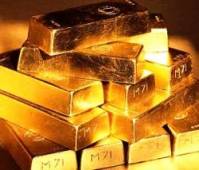 Gold imports saw a huge 11.5 tonne decline to 26 tonne in October compared to 44 tonne in the year-ago period and 37.5 tonne in the previous month as a result of the surging prices, show the data released by the Bombay Bullion Association.
The decline is mainly due to the record high prices that dampened consumer demand, Bombay Bullion Association director Suresh Hundia said, adding volume of shipment also declined in October as the festival demand is no longer there.
In the international markets, prices shot up from $1,050 an ounce on November 3 to a high $1,194 on Thursday, driven by the struggling American currency and as also after the Reserve Bank of India bought a whopping 200 tonne yellow metal from the International Monetary Fund.
The global scenario also has had its impacts on the domestic market as gold surged from Rs 16,200 per 10 gram on November 3 to a high of Rs 18,047 on Thursday.
The prices today declined by Rs 550 to Rs 17,449 on the Multi-Commodity Exchange. According to an analyst with brokerage firm Karvy Comtrade, the precious metal is likely to shed Rs 200-300 more as it is already over-bought.
The Dubai debt crisis coupled with profit booking as the prices are dragging on the higher side is likely to affect the prices, he added.
Gold imports have been sluggish so far this year and were at 144.7 tonne during January-September 2009, compared to 359 tonne in the same period last year, said the association. In January, only 1.8 tonne were imported followed by zero import in February and March due to lack of demand as a result of high prices.
Gold imports touched 20 tonne in April, on account of 'Akshaya Tritiya', a festival during spring which is considered auspicious for buying gold.