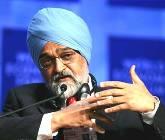 The Planning Commission said on Monday the projections for the entire 2009-10 financial year may have to be revised upward after the latest gross domestic product figures pointed towards an upturn in the economy.
The Indian economy rose by 7.9 per cent in the second quarter of this fiscal, belying analysts expectations of 6-6.6 per cent growth for the period.
"It is difficult to project what will happen in the rest of the year. But this performance does suggest that there may well have to be an upward revision in GDP growth of 6.5 per cent, which has been projected so far," Planning Commission deputy chairman Montek Singh Ahluwalia told reporters here.
He said the second quarter GDP data suggests the economy is back to its normal growth trajectory.
Indian economy not only performed better than the preceding quarter performance of 6.1 per cent, but even 7.7 per cent recorded in the second quarter of last fiscal when the economy had not faced the full impact of the collapse of Lehman Brothers.
RBI has projected economic growth rate of 6 per cent for this fiscal, the Planning Commission 6.3 per cent and finance minister Pranab Mukherjee 6-7 per cent.
Ahluwalia said inflation is not a serious concern now and conventional menetary policy is unlikely to be effective on controlling food prices.
Food inflation is high mainly due to short supply of agricultural products, where monetary tools like increasing interest rates may not be effective.
Image: Montek Singh Ahluwalia