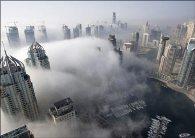 The International Monetary Fund has welcomed the decision of the United Arab Emirates to come to the rescue of its banks in Dubai and said it is monitoring the situation that took the world market by surprise.
"We welcome today's announcement by the Central Bank of the UAE making available to banks a special additional liquidity facility," the IMF said in a statement on Sunday amid concerns about excessive borrowing around the world.
The IMF's comments came after the United Arab Emirates decided to give money to its banks struggling in Dubai.
"We look forward to further clarification by the authorities towards a cooperative mechanism to address the issues between these debtors and their creditors," it said.
"We are continuing to monitor the situation following the unexpected announcement by the government of Dubai regarding a standstill on the debt of Dubai World and its Nakheel subsidiary, which has had an adverse impact on financial markets," it added.
Meanwhile, in a news report The New York Times said the UAE central bank's move was an attempt to head off the kind of crisis of confidence that froze credit markets last year and brought the global economy to the brink of failure, threatening everyone from hedge fund billionaires to retirees who had their savings in supposedly safe investments.
Noting that while Dubai is not big enough to directly ignite financial repercussions outside the Middle East, the New York Times said the main fear is that investors could flee risky markets all at once in search of safer havens for their money - much as they did in September 2008, when the failure of Lehman Brothers heightened worries about all financial institutions, regardless of their strength.
The move by the UAE Central Bank came after Dubai World, a subsidiary of the government of Dubai, was on the verge of defaulting on approximately $60 billion of the Emirate's $80 billion in total debt held by creditors worldwide.