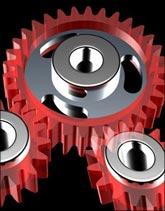 It made headlines last September when a brewing labour unrest culminated into the murder of chief executive Lalit Kishore Chaudhury at the production plant in Greater Noida.
But one year later, Graziano Transmissioni India Pvt Ltd, a wholly-owned subsidiary of Italian auto-component manufacturer Oerlikon Drive Systems, has not reduced its dependence on India.
Instead, it has changed tack so that a larger percentage of its business comes from India. This, of course, is due to the global downturn, which has reduced the industry's dependence on European and American markets.
An official spokesperson of Oerlikon Graziano said, "In the domestic market in India, we have good order position, while in Europe and the US, due to the overall recession, things are a little slower. The Graziano management has taken a decision to grow its business in the Indian market."
In order to meet the local demand, the management is planning to augment the capacity of the plant. However, the company did not give figures.
Learning from the labour unrest, company officials say they are enhancing employee involvement in the organisation. "A total quality management drive has been launched and there is a higher focus on communication and employee training," said a company spokesperson.
The services of the 200-odd employees who were allegedly involved in the attack on the plant in September 2008 had been terminated. The company now conducts "a very thorough antecedent check before hiring."
The company recorded a turnover of Rs 350 crore in 2008. A large part of this success has resulted from the company being able to retain clients even in trying times.
"Despite the unfortunate development, Graziano put in extra hard work to ensure that its customers did not suffer due to the incident. It delivered on its commitment to its customers by partly making components at Italy," said an official of Oerlikon Graziano.
Graziano Transmissioni India supplies to manufactures of tractors, commercial vehicles and construction equipment such as Mahindra and Mahindra, Eicher, New Holland Tractors and JCB.
It also supplies CVT transmission, developed by Graziano Italy, to Case New Holland of North America and electric driven transaxle assemblies to Club Car-USA.