The government plans to halve the time it takes to acquire land for road projects, a move that is expected to help it and construction companies save over Rs 10,000 crore (Rs 100 billion), Union Road Transport and Highways Minister Kamal Nath said.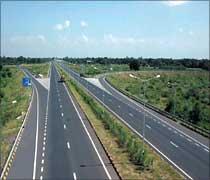 In an interview to Business Standard, Nath said the focus would be on eliminating the many "unnecessary procedures involved" in the land acquisition process.
National Highways Authority of India officials said land acquisition typically takes 24 months, and the plan is to pare that time to 11 months. This will help reduce the time taken for building a road - a process that currently takes five years from conception, design, identifying land, acquiring it and calling for bids once 80 per cent of the land is available.
State administrations are currently responsible for acquiring land for road projects. To streamline the process, NHAI is setting up special land acquisition units all over the country under the responsibility of state government officials on deputation to the authority.
Ten such units are coming up in Rajasthan, 13 in Bihar, 25 in Uttar Pradesh, seven in Gujarat, 11 in Orissa, 13 in West Bengal, four in Jharkhand, 11 in Maharashtra and five in Assam. Around 40 are already operational in Tamil Nadu and Karnataka and sanction has been received for Goa.
These units will be headed by an additional district magistrate or sub-divisional magistrate who will report to the NHAI through project directors (who are NHAI officials appointed to look after the development of the project). The ADM or SDM would be state government officials on deputation to NHAI.
Nath added that other processes would be shortened, such as the practice of translating into Hindi the letters written by project directors to the ministry.
According to a survey, 70 per cent of infrastructure projects in the country are delayed due to land acquisition problems, which include 40 projects by NHAI.
The government has put over 124 road projects worth Rs 100,000 crore (Rs 1000 billion) up for bidding this year and is expected to offer a similar amount of projects for bidding next year.
The savings as a result of speeding the land acquisition, according to experts, is about 10 per cent of the total project cost.
"Project and construction costs are totally dependent on prices of goods like steel and cement that go into making a road and these prices generally increase every year. Considering 2008 price levels, if the project time is bought down by one year, the construction cost will come down by 15 per cent and the total project cost by 10 per cent," says Parvesh Minocha, managing director, transport division, Feedback Ventures, an infrastructure services company.