With interest rates close to bottoming out, Amit Pandey, a young executive with a multinational firm, is looking for a fixed-rate home loan. But he is unable to do so in a market flooded with combo offers.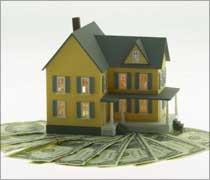 These offers allow new borrowers to avail of fixed rates for three to five years. After that, they have to shift to the prevailing floating rate.
Currently, ICICI Bank and HDFC do offer fixed-rate loans but the differential between fixed and floating rate loans is huge - up to 675 basis points.
ICICI Bank offers fixed rate home loans at 16 per cent and HDFC at 14.25 per cent. For ICICI Bank, the difference between fixed and floating rate loans is 6.75 per cent and for HDFC it is 5.25 per cent, according to apnaloan.com.
There is another set - which includes the likes of Axis Bank - that does offer fixed-rate loans but keeps the option of periodic revisions open.
"If you compare the current situation with the beginning of the decade, the volatility in interest rates has gone up drastically. Those who are offering a pure, fixed-rate product need to charge a premium," said K V S Manian of Kotak Mahindra Bank.
Bankers said the degree of interest rate volatility has risen because the country's securities market is impacted by global events and the inflow of cross-border money. Plus, most bankers and economists are expecting interest rates to go up.
The economic recovery in India and some parts of the world, inflation and the government's borrowing programme are all expected to send interest rates upwards in a few months.
"In such a situation, the lower pricing of fixed rates will amount to a loss," said a banker.
In other words, the fixed-rate home loan is history, at least for now. "What we saw in 2002-03 cannot be repeated. Interest rates in those days were benign. There was no retail demand," said Bank of Baroda chief economist Rupa Rege-Nitsure.
In 2002-03, the difference between fixed- and floating-rate products was between 50 and 200 basis points and many borrowers shifted to fixed-rate loans around that time to ensure they were not hit by a rising rate cycle.
Some lenders have faced problems in the past on portfolios that had fixed rate home loans, said LIC Housing Finance director and chief executive officer R R Nair. "Around 2006, when rates started their upward movement, lenders started losing money on the portfolio that consisted of fixed rate home loan products," he said.
In developed nations, like the US, a 30-year fixed-rate home mortgage is a standard product, according to experts. But this is possible only because the US has mature securities markets with products such as interest rate futures. "This allows the bankers to hedge their long-term loans," said Manian.