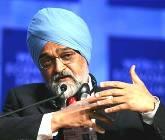 The Planning Commission said on Wednesday the economy may grow at a rate higher than 6.3 per cent projected earlier as it sees drought having lesser impact on agriculture.
"The forecast (on GDP) may turn upward a bit than 6.3 per cent (projected earlier)," Planning Commission deputy chairman Montek Singh Ahluwalia said.
The impact of drought on the country's agriculture could turn 'less negative' than feared earlier, he said.
The commission had earlier projected a 2.5 per cent fall in the farm output due to weak monsoon but expects the drop to be less than that.
"This will add up to the overall economic growth," Ahluwalia said at a Private Equity seminar in Mumbai.
Also, a significant industrial recovery and a healthy flow of investments would contribute to the country's overall growth, he added.
According to the Planning commission, India's growth in 2010-11 is expected to be around 7 per cent.
The Reserve Bank had projected a 6 per cent GDP growth in the current financial year, with an upward bias.
Under the 11th Five-Year Plan (2007-12), the commission expects that India would add 60,000 MW to 68,000 MW capacity in the power sector against the targeted 78,000 MW.
During the 10th Plan (2002-07), the power-starved country had added only 21,000 MW capacity against the targeted 45,000 MW.
Ahluwalia said central and state governments should encourage public-private partnership model in health and education sectors to speed up development.
Image: Montek Singh Ahluwalia