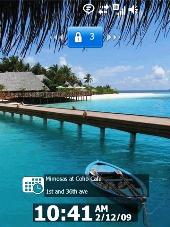 Microsoft Corporation (India) Private Limited has announced the availability of a new range of handsets from device partners, featuring Windows Mobile 6.5 -- the latest version of Microsoft's mobile phone software.
Windows Mobile 6.5 Windows Phones will deliver new customer experience through an improved, easy-to-use and customizable user interface and an enhanced browsing experience.
Microsoft is also debuting two new services to bring added value to consumers. They are -- My Phone is an in-built, free service that offers 2000 MB of online storage to back up all contacts and phone information and Windows Marketplace for mobile offers consumers, an easy way to find and purchase high quality mobile application.
The new window phones that are available include Acer Be Touch E100, Acer Be Touch e101, Acer Neo Touch S200, Acer Be touch E 200 and HTC Touch 2, and will be the first to feature Windows Mobile 6.5, Microsoft said.
The Windows Mobile 6.5's key features are:
200 MB online storage for free contacts and data back-up with My Phone
New Internet Explore Mobile for better browsing,
easy to use Interface
Microsoft Office Mobile to open and edit in Word, Excel and Power Point
Rich ecosystem of applications through Windows Marketplace for Mobile
Additionally, some of the existing popular phones running Windows Mobile 6.1, namely -- HTC Diamond 2, HTC Touch Pro 2, LG Eigen and Samsung Omnia Pro -- can be upgraded to Windows Mobile 6.5 by the end of the year. This will extend to cover over 20 phones Mobile 6.5, including a host of new phones that will be launched by device partners.