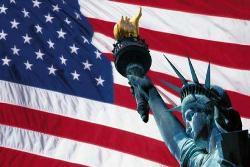 The US federal budget deficit has ballooned to a staggering $1.4 trillion, the highest since World War II, for the fiscal year 2009 as massive government spending and lower revenues widened the gap.
Moreover, the deficit represents 9.9 per cent of the national gross domestic product.
According to the congressional budget office, the budget deficit was about $1.4 trillion for the fiscal year ended September 30, which is $950 billion greater than the shortfall recorded in 2008.
"The 2009 deficit was equal to 9.9 per cent of gross domestic product, up from 3.2 per cent in 2008, and was the highest shortfall -- relative to the size of the Economy -- since 1945," the CBO said in a statement on Wednesday.
Earlier, the deficit was projected to hit $1.6 trillion in the fiscal year 2009.
The staggering shortfall between government revenues and expenditure was primarily on account of the huge Troubled Asset Relief Program and the efforts to shore up the fortunes of beleaguered mortgage lenders Fannie Mae and Freddie Mac.
As part of initiatives to bolster the ailing financial system, the US pumped in billions of dollars into banking entities through TARP. In addition, the government shelled out nearly $200 billion to rescue Fannie Mae and Freddie Mac.
In September alone, the federal government recorded a deficit of $31 billion, where it was a surplus of $42 billion in the same period last year.