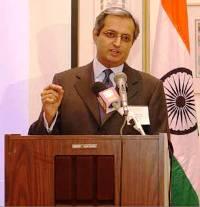 A management review, as requested by federal regulators has given a satisfactory view on Citigroup chief executive Vikram Pandit's leadership, but has questioned some of its top deputies, a move which could result into management shake-up, media reports say.
The management review, requested by federal regulators, gave Citigroup's senior executives good marks overall and took a satisfactory view of the leadership of Pandit, but took a harsher stance on some of Pandit's top deputies, The New York Times said citing persons with knowledge of the situation.
The report took a harsher stand on Terri Dial, the head of its global consumer businesses, Don Callahan, the bank's chief administrative officer and Lewis B Kaden, a vice chairman who has rotated through a number of top positions.
Quoting sources, the NYT said, "Citigroup's board met on Tuesday to discuss the findings of a government-ordered review of the bank's leadership, a move that could lead to yet another management shake-up at the company."
"The management review should give Pandit some relief from the steady drumbeat of criticism he has faced from investors, lawmakers and even some Citigroup managers," the daily said adding that "it could raise questions about Pandit's judgement of some of the people on his leadership team."
The review was carried out by Egon Zehnder International, an executive recruiting and consulting firm, which interviewed Citigroup directors and senior executives about their impressions of Pandit and his deputies.
The review is the latest step that the government has taken to force changes at Citigroup after a board shake-up this year and a similar assessment of the company's governance and risk practices during the stress tests.
In June, federal regulators ordered the bank to compare its leaders with those at peer companies after officials at the Federal Deposit Insurance Corporation raised concerns about Pandit and some of his top lieutenants.
Image: Vikram Pandit. | Photograph: Paresh Gandhi