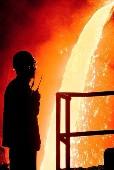 While SAIL is operating at full steam, the capacity utilisation among other global biggies is just 50-60 per cent.
Government-owned Steel Authority of India Limited has emerged as the top profit-making steel company in the first six months of the calendar year, leaving behind global majors like ArcelorMittal, Posco, Bao Steel and Nippon.
Sector analysts expect this trend to continue at least for the next two-three quarters.
An analysis of the financial performance of nine leading global companies during January-June 2009 showed that only three of them registered profits, with SAIL's profit being the highest.
SAIL reported a net profit of $571 million in the January-June period of 2009, while other steel companies reported huge losses.
Only Korean steel producer Posco managed to come close to SAIL by reporting a net profit of $564 million in the first half of the current calendar year. Tata Steel, another major Indian producer, also managed to do reasonably well, with a net profit of $458 million in the said period.
SAIL, with a 14-million-tonne (mt) capacity, is the world's 21st steel company in terms of manufacturing capacity -- much behind sector leader ArcelorMittal, which has a capacity of 103 mt. The L N Mittal-owned company reported a net loss of $1,855 million during January-June 2009, while Nippon reported a loss of $1,043 million, Severstal a loss of $944 million and US Steel a loss of $831 million. However, Bao Steel managed a profit of $98 million.
SAIL has improved its operational efficiencies on account of various measures, like rationalisation of manpower and enhancement in techno-economic and operational parameters, including coke rate, energy consumption, blast furnace productivity, etc. SAIL is also a zero-debt company and, therefore, there is no interest cost pressure on its balance sheet.
"For the next two-three quarters, SAIL is poised to perform better than other global players. This is mainly due to the robust domestic consumption growth that is being witnessed month after month.
Moreover, domestic prices have remained stable. While SAIL is operating at full capacity, the capacity utilisation among other global biggies is just 50-60 per cent. Global giants are likely to see a recovery only after two-three quarters," an analyst said.
According to a SAIL executive, new initiatives to achieve a better product mix and increase production of value-added steel have resulted in better realisation. Adoption of innovative practices suggested by employees across SAIL plants resulting in substantial savings, the executive added.