German luxury car maker BMW launched its sports-car Z4 Roadster priced at Rs 59 lakh (Rs 5.9 million)on Monday.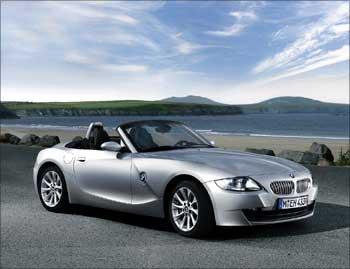 The two-seater sports-car powered by a 2,979 cc petrol engine is being launched as a part of the company's move to strengthen its position in the Indian luxury car segment.
"With the new BMW Z4 we want to reach out to new target groups in India who appreciate a pure driving experience, high standard of elegance and value, and suitability for everyday driving and comfort," BMW India President Peter Kronschnabl told reporters in Mumbai.
He said the company is targeting to sell 30-40 units of the Z4 Roadster in the first year.
The company is currently competing neck-to-neck with rival German luxury car maker Mercedes-Benz for the top slot in the Indian luxury-car market. During the first eight months (January- August) of 2009, BMW had sold 2,305 units against 2,026 of Mercedes.
Kronschnabl had earlier said the company plans to target a sales figure of 3,000 units this year. About 75 per cent of the company's sales in India come from its two luxury sedans -- the 3-Series and 5-Series assembled at its Chennai plant.
It also sells the 6-Series and 7-Series in the luxury segment, X3, X5 and X6 in the sports utility segment and M3, M5 and M6 in the convertible sports coupe category as completely-built-units in India.
BMW had last month announced plans to seek regulatory approval for incorporating a finance subsidiary to serve the credit needs of retail customers, fleet owners and dealers. It had also announced a USD 50 million investment into the auto finance project.