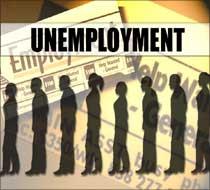 Reflecting a strained labour market even as signs of economic recovery are rising, the unemployment rate in the OECD region rose to 8.6 per cent in August.
The Organisation for Economic Co-operation and Development (OECD) - a grouping of nations mainly rich ones - has seen the jobless rate rise marginally in August from the previous month.
"The unemployment rate for the OECD area was 8.6 per cent in August 2009, 0.1 percentage point higher than the previous month and 2.3 percentage points higher than a year earlier," the OECD said in a statement.
Even as the global economy is on the revival path, the employment scenario continues to look grim as many companies are still cutting jobs to bring down costs.
Euro zone - the 16 nations that share the common currency euro - Japan and the US are also part of the OECD.
The Euro zone's jobless rate shot up to a ten-year high of 9.6 per cent in August while that of the US spiralled to a 26-year-high of 9.8 per cent in September.
However, in the case of Japan, the labour market strains seem to be easing, as that country's unemployment rate fell marginally to 5.5 per cent in August.
In signs that economic recovery is round the corner, the American GDP shrank less than expected at 0.7 in the June quarter, while Japan, Germany and France have exited recession.