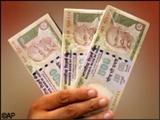 India Inc is expected to witness an average eight per cent salary increase this year and as much as 50 per cent of companies have strong hiring plans for the next three months, a survey by global HR consultancy Mercer says.
The Mercer India Monitor quarterly survey also shows an optimistic sentiment for 2010, with salaries expected to rise by as much as 10.9 per cent next year.
"Despite the fact that past year saw slowest growth in a long time, the economy is expected to grow at over six per cent and industry is estimated to see overall average salary hikes at 8 per cent for 2009," Mercer's information product solutions business India leader Gangapriya Chakraverti said.
"Overall forecast for 2010 is at 10.9 per cent compared to eight per cent this year. Most sectors are forecasting double digit increases for next year," Chakraverti added.
Moreover, most companies have presented a more optimistic picture on workforce and compensation with 50 per cent of respondents hiring in the next three months either to add headcount or to replace for attrition so far, the survey said.
In terms of sectors, the IT space, which had a 'long lasting' lull of nearly zero per cent salary increase this year, is showing improved sentiments.
The survey revealed that the IT sector is expected to see salary increases by a few percentage points next year.
A majority of the companies used guaranteed cash as the basis for arriving at the increments, the Mercer survey said.
Some sectors have doled out reasonably high salary increases this year, despite the economic recession. Salary increases in the pharmaceutical, consumer and manufacturing sectors have been in excess of seven per cent, the report stated. Automobile/ auto component industry has emerged as a sector with fairly reasonable increases this year.
IT Industry has been worst impacted with an almost zero increase this year across most companies. But telecom has brought some respite with a fairly reasonable salary hike budget thus pushing the overall increase in the Hi Tech space to about five per cent.
Besides, chemical is the other sector which has fared reasonably well, while energy has shown a pessimistic sentiment with most companies extending lower salary increases than usual and a few deferring salary increases indefinitely.
In terms of hiring plans, over 50 per cent companies in the pharmaceutical, chemical and IT sectors have indicated an intention of hiring to add headcount.
However, few companies in manufacturing and pharma sector have indicated an intent to reduce headcount over the next three months.
© Copyright 2022 PTI. All rights reserved. Republication or redistribution of PTI content, including by framing or similar means, is expressly prohibited without the prior written consent.