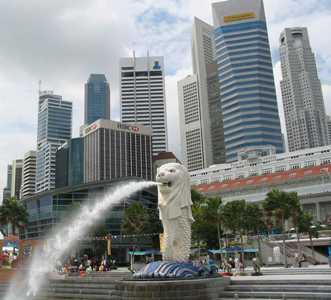 Climbing out of recession, Singapore's economy expanded 0.8 per cent in the third quarter of 2009, indicating that the worst of the down-slide is over for the region.
The country's economy has been primarily bolstered by good performance in biomedical and electronics manufacturing, among others, in the September quarter.
The economy has expanded for the first time since the third quarter of 2008.
According to Singapore's ministry of trade and industry, the national economy grew 0.8 per cent on a year-on-year basis in the third quarter.
In the three months ended June, the economy had contracted 3.2 per cent.
"Growth was driven by the continued expansion of biomedical and electronics manufacturing output, and improvements in the trade-related and tourism sectors of the economy on the back of a gradual stabilisation in global economic conditions," MIT said.
Meanwhile, Singapore's third-quarter GDP rose by 14.9 per cent on a seasonally-adjusted quarter-on-quarter annualised basis, after a 22 per cent expansion in the second quarter of 2009.
With the latest upswing in figures, Singapore has joined Japan and European majors Germany and France, in coming out of the recession.
Buoyed by encouraging third quarter performance, the ministry now expects the economy to shrink less in the range of 2 to 2.5 per cent for the full year.
The ministry noted that a 'clear but modest recovery is underway globally', at least for the next three or four quarters.
"However, economic activity will probably remain below pre-crisis levels because of the drag on demand in the developed economies posed by high levels of spare capacity and tight credit conditions," the statement said.
On the other hand, the ministry has cautioned that uncertainties over the pace of the withdrawal of monetary and fiscal stimulus measures pose an additional risk.
"While these factors may dampen growth in the second half of 2010 and result in an uneven recovery, the likelihood of a return to recessionary conditions is low in the absence of further financial shocks," it added.