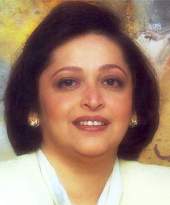 The government should continue the steps taken earlier to stimulate the economy for about two years as these measures have helped the industry to record double digit growth, Assocham's new president Swati Piramal said on Tuesday.
"The stimulus has really worked well. . .the double digit growth in industrial production reflects the impact of the measures and these should be continued for another 1-2 years," Piramal told reporters in New Delhi.
The first woman president of any apex industry body said with over 10 per cent increase in factory output in August Assocham will revise its earlier GDP estimate of 7 per cent for the current fiscal.
"I think the index of industrial production will continue to grow like this in the next two quarters also...we will revise (upwards) our economic growth estimates for 2009-10," she said.
The government had announced a slew of measures like cut in excise duties, additional spending on infrastructure, two per cent interest subsidy to exporters and service tax exemptions to prop the slowdown-affected Indian industry.
In the first quarter this fiscal, the Indian economy grew by 6.1 per cent and is expected to grow by over 6 per cent in 2009-10 as per government's estimates.
Piramal also said it was time for 'quick disinvestment' of profit-making public sector enterprises (PSUs) as it would 'immediately' help soften interest rates and assist fiscal management.
"(The government should) allow disinvestment in PSUs to raise Rs 30,000 crore (Rs 300 billion)," Piramal said. The government has estimated fiscal deficit at 6.8 per cent for 2009-10.
Commenting on the Draft Tax Code, Piramal said, "In theory it is very good but there are 2-3 things, about which the industry is worried."
She said the government should drop the proposal to introduce minimum alternate tax in DTC on assets as it is like levying wealth tax on loss making companies.
MAT is more like wealth tax to be paid even by loss making companies, those that are yet to start business and even on assets yet to be put to use, she added.
DTC, which will replace the Income Tax Act, 1961 after approval by Parliament, proposed to impose minimum alternate tax on assets instead of book profit.
On implementation of goods and services tax, the president said it should be implemented at a flat rate of 12 per cent by April 2010.
Piramal further said there is a need to reduce the key policy rates like repo (rate at which RBI lends to banks) and reverse repo (rate at which RBI borrows from banks) by 50 basis points.
Image: Swati Piramal