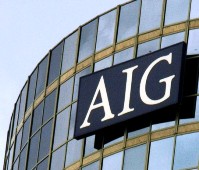 American International Group shelled out retention bonuses to hundreds of employees at its financial products division, including a kitchen assistant, who received $7,700, says a media report.
The insurer had received nearly $80 billion last year from the US government to tide over the financial turmoil.
Attributing to a US government report to be released on Wednesday, The Financial Times has said that hundreds of employees at AIG's financial products unit got retention bonuses and among them, was a kitchen assistant who got $7,700 in March.
The report by Neil Barofsky, who is the special inspector-general for the US government's $700 billion troubled assets relief programme, could reignite political controversy over pay at the insurer, the British daily said.
Employees of AIG's financial products unit were scheduled to get another $198 million in retention awards in March next year.
Quoting Barofsky, the newspaper said that about 400 employees of AIG's Financial Products arm shared the more than $168 million in retention awards in December 2008 and March 2009. This came after the insurer was bailed out by the US.
"The recipients included the kitchen assistant, who was handed a cash retention bonus of $7,700, and a 'file administrator', who received $700, as well as more senior executives who were paid bonuses of up to $4 million," the Financial Times noted.
Attributing to people close to AIG, the daily said the awards -- established early in 2008 -- were partly designed to replace a stock award scheme that had lost its appeal because of a slide in the company's shares.
The publication added that Barofsky's findings could strengthen the hand of Kenneth Feinberg, the government's 'pay tsar' in his efforts to crack down on AIG pay.
"It is odd for a kitchen assistant to receive a retention award. . . If everyone receives a retention bonus, it makes you wonder what the point of the programme is," Charles Elson, a corporate governance professor at the University of Delaware was quoted as saying.