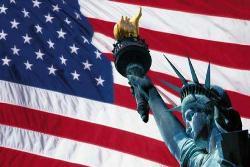 The US Federal Reserve said economic activity turned up in the third quarter of this year but warned of unemployment rate touching 10 per cent by early 2010.
The recession-hit US economy has been witnessing signs of revival in recent months especially with the rate of economic contraction slowing down.
However, the employment market continues to remain strained, with the jobless rate touching a 26-year high of 9.8 per cent in September.
Donald L Kohn, who is the vice-chairman of the US Fed, said economic activity 'turned up' in the third quarter and reflects the dissipation of some forces that had been exerting downward pressure on the economy.
"I expect that the recovery in US economic activity will proceed at a moderate pace in the second half of this year before strengthening some in 2010," Kohn said in a speech on Tuesday.
Kohn pointed out that even though rate of payroll employment losses has come down, jobs are continuing to be cut especially in the private sector.
"While the unemployment rate has not been rising as rapidly since midyear as it did over the preceding year, it could well reach 10 per cent by early 2010," he said.
Kohn said economic recovery would be moderate as credit flows continue to remain tight.
"Although financial conditions are improving and market interest rates are very low, credit remains tight for many borrowers.
"In particular, the supply of bank credit remains very tight, and many securitisation markets that do not enjoy support from the Federal Reserve or other government agencies are still impaired," he added.
The US GDP shrank 0.7 per cent in the June quarter, much less than the earlier projection of one per cent contraction.
The country slipped into economic recession in December 2007 and things turned for the worse with the collapse of then Wall Street major Lehman Brothers in September last year.