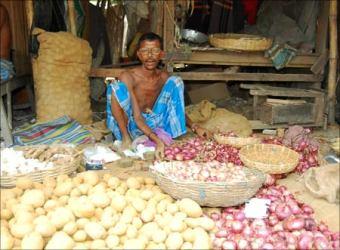 To check price rise, the government is importing some of the commodities to bridge the supply-demand gap and strengthening mechanism for providing subsidised items to poor, finance minister Pranab Mukherjee said on Wednesday.
State governments have been requested to strengthen the public distribution system, Mukherjee said.
Addressing a news conference, Mukherjee also said arrangements for import of some commodities had been made to bridge the gap between availability and demand and also to protect vulnerable sections of society.
Commodities like rice, wheat, edible oil, sugar and kerosene would be provided at subsidised rates to people living below the poverty line, he added.
The government has taken various steps to check rise in the prices of essential commodities, he said and warned that it would take action against hoarders and profiteers.
Earlier this month, Prime Minister Manmohan Singh said at an election rally in Haryana that the worst was getting over on the price-rise front and hoped that a good rabi crop should also help check rising prices.
Singh said that the Centre has increased the prices of crop produce of farmers and the government was trying its best to check the price rise through campaign against hoarding and black-marketing.
"Prices of food products in international markets have gone up, monsoon rains has not been enough and drought-like situation has prevailed this year," Singh said.
Image: A vegetable vendor. | Photograph: Dipak Chakraborty