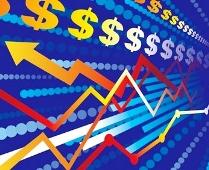 The Indian economy is unlikely to return to nine per cent growth level in the near future as the global slowdown may continue for some more time, says Prime Minister's Economic Advisory Council member Govinda Rao.
He, however, exuded confidence that in another two years the economic growth may touch 8 per cent.
"Nine per cent happened when the global economy was booming. And one doesn't expect that to happen in the near future. But I think the trend growth (8 per cent) can happen in the next couple of years," Rao told news channel CNN.
Having recorded about 9 per cent growth rate in three consecutive years since 2005-06, India's growth rate fell to 6.7 per cent during 2008-09 on account of the impact of the global financial crisis. India recorded a growth rate of 6.1 per cent during the first quarter of this fiscal.
For the current fiscal, the PMEAC member said the economy is likely to grow between 6.5 per cent and 7 per cent.
"Well, I think it (growth rate this year) will be definitely 6.5 per cent plus. It could be anything between 6.5 per cent and 7 per cent," he said.
On Wednesday, PMEAC chairman C Rangarajan said his estimate is that the economy would grow between 6 and 6.5 per cent in the current fiscal. "Perhaps it would be closer to the upper end of my range," he added.
Rao said that the problem before India's higher growth is the huge fiscal deficit.
Fiscal deficit widened to 6.2 per cent of the GDP in 2008-09 after the government introduced financial measures and increased spending to give a boost to the economy, hit by the global downturn.
In this fiscal, too, the fiscal deficit is projected at 6.8 per cent of the GDP on increase in the overall expenditure to over Rs 10 lakh crore (Rs 10 trillion).
Rao further said that infrastructural bottleneck is another problem for the country.
"There are two biggest problems. One is the infrastructure. In fact, if you really want to support the high growth, you need really quality infrastructure in place. And the second most important issue is the fiscal (deficit) issue," Rao added.