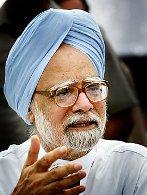 The Indian economy would grow by 6-6.5 per cent in the current fiscal despite being affected by the global financial crisis and drought in the country, Prime Minister Manmohan Singh said on Tuesday.
"Our growth rate in the current year will be 6-6.5 per cent. We are today the second fastest growing economy in the world (after China)," Singh said at the conference of the Armed Forces in New Delhi.
He said though the country's exports and foreign investments were hit by the global economic problems, the Indian economy had shown "remarkable resilience".
Due to demand slump in the western markets, India's exports have declined by 31 per cent in the April-August period of 2009-10.
With drought affecting more than 50 per cent of the districts, the Prime Minister said it had impacted "the most vulnerable sections of our society".
However, the state of the economy compares well, given the fact that the International Monetary Fund projects the world economic activity to contract by 1.4 per cent in 2009.
The gross domestic product grew by 6.1 per cent in the first quarter of the current fiscal, while the economy expanded by 6.7 per cent in 2008-09.
The Prime Minister's Economic Advisory Council, headed by noted economist C Rangarajan, submitted a review report to Singh on Tuesday.
© Copyright 2021 PTI. All rights reserved. Republication or redistribution of PTI content, including by framing or similar means, is expressly prohibited without the prior written consent.