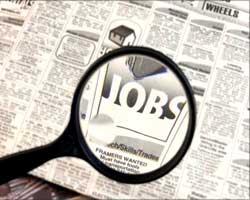 Hiring activity is finally picking up steam among Indian companies. The job index, Naukri JobSpeak, increased by 4.1 per cent in September, compared with August.
In terms of the three-month moving average, the index inched up from 715 in August to 719 in September this year, making it one of the best months since April-May when the job index was as low as 664.
Recruitment went up across all experience levels, with the highest growth in hiring for freshers and trainees, up by 39 per cent. The report, which covered 41 industries, saw a positive trend in September across sectors and cities.
There was a double-digit increase in hiring activities across 14 industries and a single-digit increase in 13 sectors, while 11 functional areas reflected a dip.
ITeS and BPO services saw a significant push in hiring last month, increasing by 18.3 per cent compared with August. Real estate and retail also bounced back, with an increase of 36.8 and 12.2 per cent, respectively, but were still considerably away from August 2008 levels.
Of the top 13 cities, Mumbai, Chennai and Delhi-NCR saw an upward trend in hiring, at 9, 8.4 and 3.5 per cent, respectively. The smaller cities of Ahmedabad and Vadodara witnessed double-digit growth rates at 11.8 and 12.5 per cent, respectively.
"The secular trend is positive across sectors.
Had it not been for an early festival season, we may have seen a further improvement in the index. The good news is that the IT and BPO sectors -- which are big employers, especially at entry and junior levels -- seem to be in positive territory after a long time," said Hitesh Oberoi, director and COO of Info Edge, which operates Naukri.Com.
However, banking & finance and oil & gas sectors saw a drop in hiring activity by 6.5 per cent and 4.6 per cent, respectively, in September compared with the previous month.