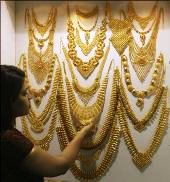 The signs of global economic recovery have given new life to the Indian diamond processing industry, with export orders rising sharply by 20 per cent for execution on the occasion of Christmas and New Year.
Export orders generally begin in August and continue till October-end. Ready jewellery items are delivered within 45 days from the date of booking.
Jewellery retailers in developed countries, especially in the US, prefer delivery a month ahead of Christmas, for display in their showrooms. This year, too, delivery is likely to be completed by November-end, for which last-minute orders are still flowing in.
According to a senior official with one of the largest jewellery exporters, "We have regained last year's lost ground. We cannot say whether the entire industry has gained the same rate of growth. But, there is a general consensus that the Indian diamond processing industry has achieved the level of export orders in 2007."
According to an estimate by the apex body, the Gems & Jewellery Export Promotion Council, India's exports to the US declined by 20 per cent on these two occasions that constitute about 40 per cent of total sales.
Lehman's bankruptcy triggered an economic recession in the US, to which India supplies 75-80 per cent of finished jewellery.
Data compiled by the GJEPC show that jewellery exports has turned around to positive territory, with shipments witnessing a marginal growth of 2.26 per cent in September from a sharp decline of over 30 per cent early this year.
Gems and jewellery exports constitute about 13 per cent of India's merchandise export basket. They recorded an export turnover of $2,566 million (Rs 12,429 crore) in September 2009, as compared to $2,509 million (Rs 11,433 crore) in the same month last year.
The rupee's sudden appreciation, however, has dashed the hopes of small processing units, that are abstaining from accepting fresh orders. According to Praveen Shankar Pandya, chairman of Diamond India Ltd and managing director of Revashankar Gems Ltd, the rupee's appreciation will make a big impact on profit margins, as 60 per cent of orders are denominated in dollars.
The rupee has appreciated over six per cent since the first week of September, equivalent to the processing margin of most tiny and medium-size units processing diamonds.
But, Indian exporters will have to meet the commitment, despite anticipated losses, to avoid blacklisting from importers, Pandya said.
"Diamonds are an import-based industry which hedges its risk fully against orders. If export orders for finished jewellery are booked at the rupee value, which is higher than its rate on the delivery date, then exporters will make losses," said Sabyasachi Ray, Executive Director of GJEPC.
"Though, we have not yet spoken to our members, the observations are that makers of lighter-weight jewellery will find it difficult going in the current volatile market, while heavy goods still face supply shortage," Roy added.