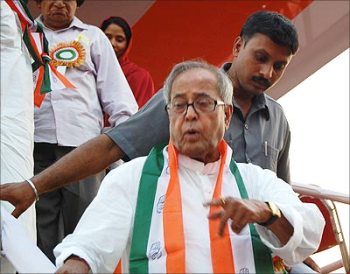 Finance minister Pranab Mukherjee said on Wednesday it is premature to 'exit' the fiscal stimulus as the global economy is not showing robust recovery, but was optimistic about economic growth.
Ahead of the monetary policy review on October 27 by the Reserve Bank of India, he plans to hold consultations with the apex bank and would not like to comment on issues like where interest rates are headed.
"I would like to watch the situation for some more time," he told PTI when asked whether fiscal concessions given to the industry to overcome the global financial crisis that started last year would be withdrawn on inflationary concerns.
He said till now the global economic recovery 'is not as robust as we expected it to be'.  Unless this recovery takes place, the government would not think of an exit policy for the stimulus, he said.
The Prime Minister's Economic Advisory Council has projected better growth, an outlook that beats estimates of the government and RBI. It expects the economy to expand by up to 6.75 per cent this fiscal, while pegging inflation at near six per cent by March 2010.
"There has been more or less the broad outline that he (PMEAC chairman C Rangarajan) has indicated in the economicoutlook for 2009 -10. We are also predicting like that," he said.
On the inflation expectations and the possibility of the interest rates going up, the finance minister said he would meet Reserve Bank D Subbarao before the credit policy review.
"We will have the opportunity of discussing with the RBI governor. . . I think before (the review) I will have some discussions," Mukherjee said.
Asked if there would be spike in interest rate by RBI in the light of rising inflation, he said, "We are working in close cooperation (and) the monetary policy and fiscal policy are moving hand-in-hand.
Therefore, whatever corrective measures are required at whatever point of time will be taken."
On exports, he said if there is no robust recovery in Europe and North America there cannot be any substantial growth in India's exports. Nearly 62 per cent of exports are directed towards Europe and North American markets, he said.
"In my Budget, I have given some money to ministry of commerce for exploring new markets which would take time," he added.
Commenting on the global economic scenario, he said his position was the same as what he had taken in the meeting of finance ministers of G-20.
"We took that (decision on stimulus). We took some risks, there is no doubt in it. Unless the world economy firmly recovers, signals are strong, perhaps it would be premature to think of exit policy. Therefore, I would like to watch the situation for some more time," Mukherjee said.
"We took some risks, there is no doubt in it. When I presented the budget, the inflationary pressure began to move upwards but still it was under control," he said, adding that though wholesale price-based inflation was negative, retail prices were moving up.
The PMEAC report said inflation, which is hovering around one per cent, may firm up to 6 per cent by the end of the current fiscal.
"Inflation also he (Rangarajan) has projected it would be around six per cent by March and I am also saying that it would be more than five per cent," Mukherjee said.
He, however, expressed concern over the prospects of agriculture output in view of natural calamities. "The country could have achieved high (farm) growth, but adverse impact of both drought and floods in some parts have affected the prospects, particularly the kharif crop," he said.
In this context, he cited the example of Andhra Pradesh, a major supplier of rice, and said the southern state had escaped drought but paddy crops there were substantially damaged by last month's floods.
The situation was more or less the same in Bihar and Uttar Pradesh, which were affected severely by drought, he said.
"The sagacity of chief ministers in Haryana and Punjab in buying power at a higher rate to draw ground water saved the crops," Mukherjee said.
However, Mukherjee apprehended that the food grain production shortfall could be higher than the 10-12 million tonnes anticipated earlier.
Last year, the production was very high -- 99 million tonnes -- putting both winter and summer rice crops together.
Though he admitted that inflationary pressures would remain as the year winds to a close, he said there would be no shortage of food grain supply.